Tired of the standard Hallmark cards on Valentine's Day? Who needs those when you have the internet?!
Here are a collection of some of our favorite nerdy Valentines, ready to buy, print, and reblog:
Doctor Who themed Valentines:
Not for muggles:
Accio more Valentines from Yenniper.blogspot.com
For The Walking Dead lovers: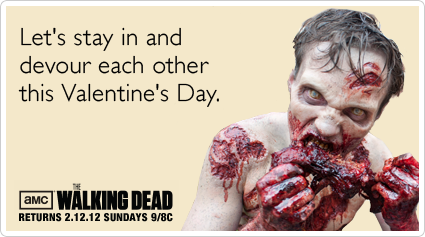 Find more HERE.
Some game for a Game of Thrones fan:
From Chris Bishop
Adventure Time:
From cleveravian.deviantart.com
Arrested Development Valentines by Tyler Feder:
Make good with some Breaking Bad:
Find more at butthorn.tumblr.com
Personal favorite:
What are some of your favorite online Valentines?